December 2015-- Holiday Light Safety From Eversource.com
According to the Electrical Safety Foundation International, every year 150 home fires start with holiday lights and other decorative lighting. And another 260 home fires begin with Christmas trees. Innovations in holiday décor, however, help make the bright nights safer and less expensive.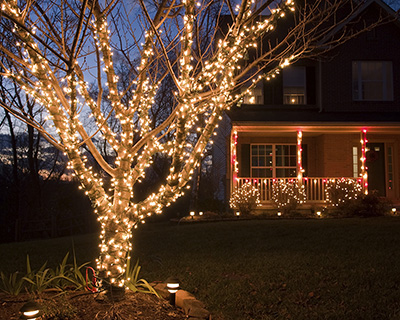 Before you start stringing up lights:
Make sure you're using lights that have been safety tested and are appropriate for the way they'll be used.

Ensure that lights being placed outside are labeled for outdoor use.

Check all of your lights, especially older ones, for broken or cracked sockets, frayed or bare wires, or loose connections and toss any damaged sets. Inspect your extension cords as well.

Practice good extension cord safety. Never run cords under rugs or coil them tightly around themselves, which can cause them to overheat.

Consider a programmable timer to your strings of lights to ensure lights are no accidentally left on. This also helps regulate energy use and reduce cost.

Plug outdoor lights and decorations into "GFCI" grounding outlets. Portable GFCI units can be purchased where electric suppliers are sold.

Always look up before decorating outdoors. Never raise ladders or extend objects into or near power lines.

Use only lights approved by OSHA-certified laboratories, like Underwriters Laboratory (UL).
Holiday lights using light-emitting diodes (LEDs) use one-tenth the energy of traditional mini-lights, and are cooler to the touch, reducing the risk of fire.
Always turn off lights when you are not home.
Use extension cords that are rated to carry the electrical loads connected to them.
To reduce the risk of fire, don't overload a circuit.
Use caution not to drive nails, staples or tacks through wiring insulation.
For More Electric Safety Tips from Eversource, Visit Their Website at EVERSOURCE.com
About Starion Energy
Starion is a licensed electricity and gas supplier in the deregulated energy market since September 2009. Energy deregulation gives consumers the choice of an alternative electric supplier and determines the rates and terms at which they purchase electric generation services. Starion services markets in Connecticut, Delaware, District of Columbia, Illinois, Massachusetts, Maryland, New Jersey, New York, Ohio, and Pennsylvania. Starion is strategically positioned for continued growth in new markets for years to come.
For more information about Starion Energy, Inc., visit www.starionenergy.com